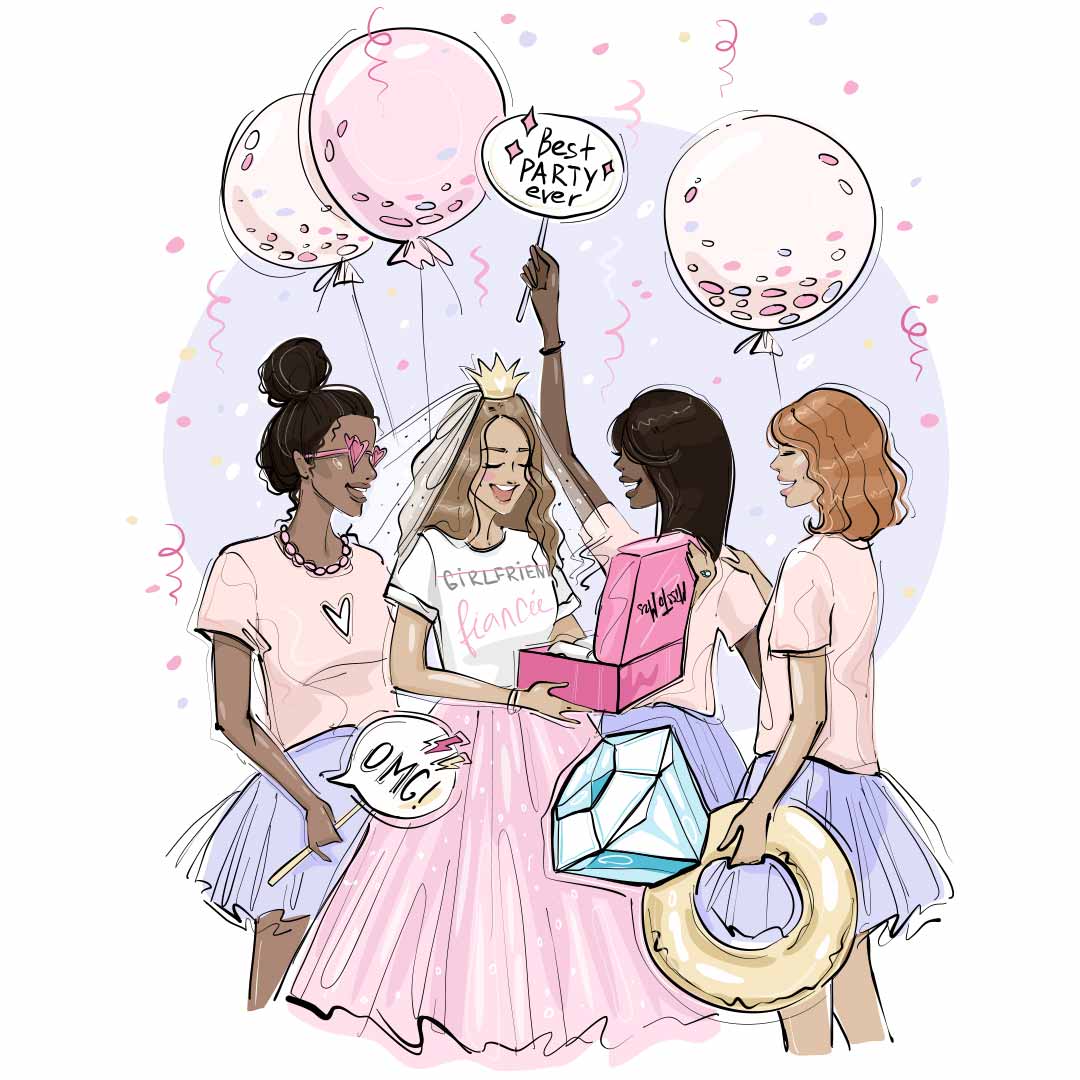 Subscribe to excitement & planning help from Engagement to Honeymoon
Exclusive Apparel
& Bridal Merch
Tips, Ideas &
Inspiration
Decor Elements &
Party Essentials

Planners, Checklists, Calendars

Wedding Planning Tools & Advice

Spa & Bridal Beauty, Honeymoon, more!

Get an upgrade to your wedding planning!
Miss To Mrs™ Box is a Bridal Subscription Box that delivers exclusive bridal merch, themed goodies & wedding planning help.

"Amongst all the craziness, receiving these boxes really helped me feel special and excited again! It's a great way to celebrate being a bride-to-be." --Alexus J ⭐⭐⭐⭐⭐

Enjoy the perfect bridal gift - even if it's from you to you! Our bridal box celebrates every moment of being engaged and helps prepare for the big day.
Totally worth it! For just $35 USD per box, get trendy, exclusive, full-sized, bridal themed products valued over $100, delivered to your door until your "I DO".
This is my 6th box and I couldn't be any happier. Everything is super practical and quality is outstanding. These boxes make my wedding process less stressful and I wouldn't change anything! --Olivia H ⭐⭐⭐⭐⭐

Is Miss To Mrs Subscription Box worth it?
"I love getting my bridal box! Always a surprise to open the box and find new items to use to help me get ready, organized and excited about getting married. The products are full size which is amazing and they aren't cheap, real products that come in so handy! Definitely worth the subscription!"
-- S. Veliz ⭐⭐⭐⭐⭐ - Verified Subscriber
Don't take our word for it, read THOUSANDS more subscriber reviews below!
Awards:
TheKnot Best Of Weddings 2020
WeddingWire Couples Choice Award 2020
400,000+
@misstomrsbox
Instagram followers are buzzing about latest bride boxes they received!
When should I start my subscription?

Most brides-to-be start their bridal box subscription as soon as they get engaged!

Since Miss To Mrs Box plans are customized to your wedding date, brides get to enjoy all 9 unique themes carefully spread throughout the wedding planning journey.

If your wedding is far out, you may start with a plan that sends boxes every 3 month, then closer to the date it will automatically switch to every 2 month, and then monthly to make sure you get the full experience in time for your big day!

However, if you start with just a few months till you wedding, you'll automatically start with a bride box theme that is more relevant to later stages of planning.

What is in the next month's bride box?
All brides-to-be who subscribe for 6+ boxes plan will start with "Let's Plan This" Themed bridal box.
Next themes of your boxes will be tailored to your wedding date to ensure you get the most useful items and tips at the best time in your planning journey.
All plans finish their subscription with a Honeymoon themed bridal box.
WHEN will my first box ship and from WHERE?
We typically ship multiples times per week, so your first bridal box should be assembled and ready to go within a few days. Typically you'll receive a tracking number ~7 days after placing your order.

For USA orders, boxes ship from our NY, USA location.
For Canada orders, boxes ship from our ON, Canada location, so there are no duties.
For Global orders, boxes ship from our NY, USA location, and duties are very rare.

"I subscribed a year and half before my wedding and got my boxes every 2 months. The variety of items is just AMAZING. Makes me feel like a bridal princess. 10/10 would recommend!" --Emma K ⭐⭐⭐⭐⭐