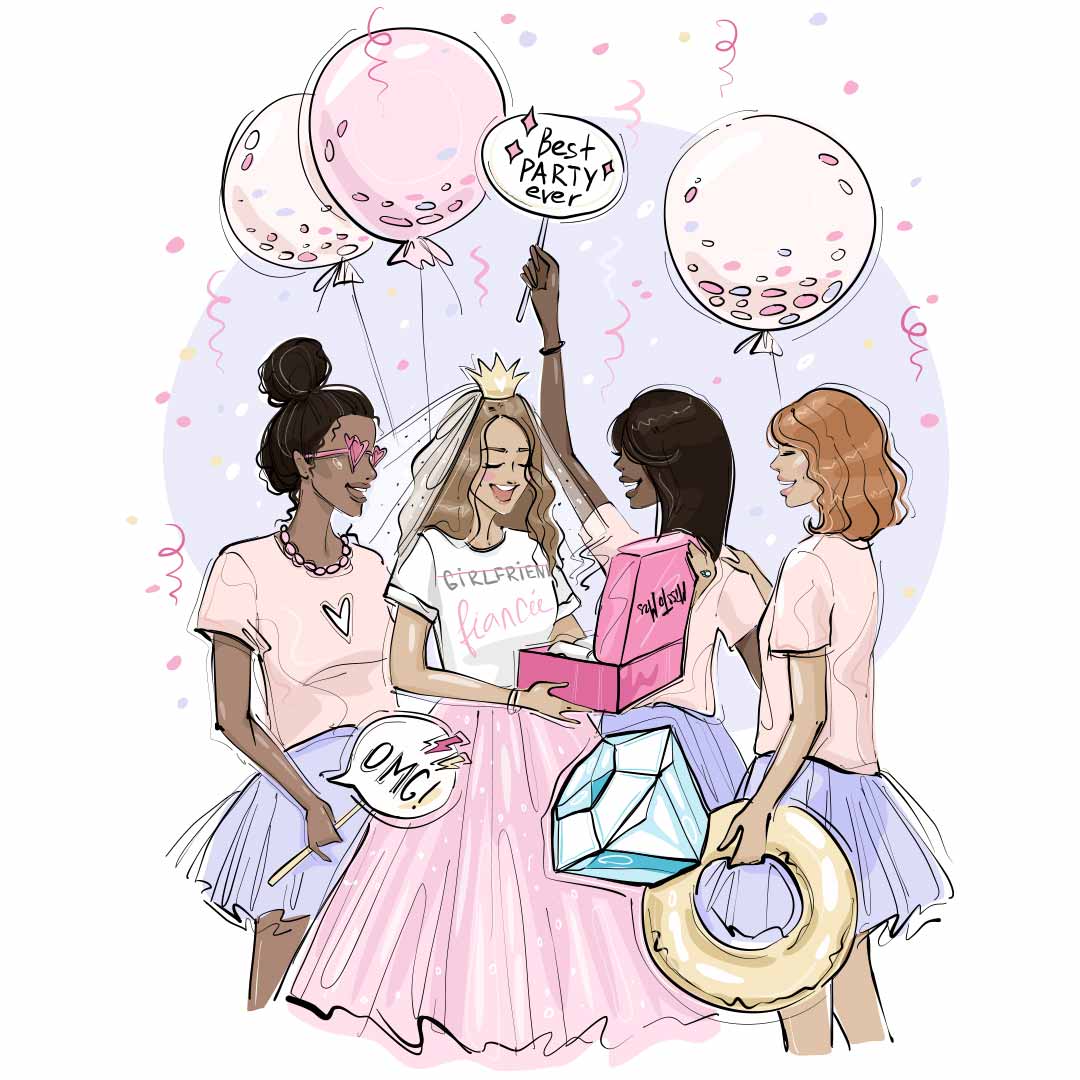 While specific contents of each themed box are a surprise, our design team is constantly working to keep all products useful, up to date, and oh-so-trendy.

All brides-to-be who have 6+ months till their wedding date will start with "Let's Plan This" Themed bridal box. The order of, and which themes you get, will be automatically tailored to your wedding date to ensure you get the most useful items and tips at the best time in your planning journey.

Congratulations, you're Engaged! This box has a little bit of everything that's designed to help you along every step of the wedding planning journey.

Past items included: tumblers, wedding planning notebooks, jewelry, balloons, decorations for celebration, and more.
You are engaged in the age of all the best bridal swag. Enjoy every single moment of your engagement and get decked out in all things bridal. #noshame

Past items included: t-shirts, tote bags, super cute baseball caps, and more.
Getting in shape for the big day is easier than you think. This box will help you eat healthily, and keep you motivated to follow your wedding workout plan.

Past items included: workout items such as elastic bands, t-shirts, training planners, water bottles, and more.
We get it, wedding planning can get a bit stressful. This box is designed to help you plan a little bit of pampering time into your wedding planning schedule.

Past items included: Kimono robes, hair towels, relaxation and spa products to help you take the pressure off.
A great party starts with great ideas. This Box is packed with must-have #partygoals essentials.

Past items included everything you need to celebrate good times: photo booth props, cake toppers and other fabulous and fun party supplies and decorations.
Hairpins, tiara, or diadem? There are many options for the bridal look. This box comes with products to help you experiment with various looks before deciding on the perfect one.

Past items included: makeup essentials, bridal hair accessories, manicure tools, and more.
A wedding planning journey is filled with many needs and wants, but we have assembled a few essentials that every bride must-have. #weddingdayready

Past items included: wedding day elements, dancing flats, vow books and after-the-wedding items.
Take a day off from wedding planning, and plan something totally romantic with the love of your life. We have included a few items to get your imagination started and help you plan the perfect moment.

Past items included everything you need for a romantic night: sensual teasers, candles, wine tote and glasses, and more.
From being travel-ready to look great at the beach, we got you covered! And so the adventure begins…

Past items included: beach totes and hats, apparel and accessories, passport covers, luggage tags, etc.
"Miss to Mrs Box is a MUST! OMG! I loved the different themes of each box and the items inside were timed perfectly to every stage of planning a wedding. If you are thinking about it - just do it!" --Taryn F ⭐️⭐️⭐️⭐️⭐️
Enjoy the perfect bridal gift - even if it's from you to you! Our bridal box celebrates every moment of being engaged and helps prepare for the big day.
Totally worth it! For just $35 USD per box, get trendy, exclusive, full-sized, bridal themed products valued over $100, delivered to your door until your "I DO".
"I subscribed a year and half before my wedding and got my boxes every 2 months. The variety of items is just AMAZING. Makes me feel like a bridal princess. 10/10 would recommend!" --Emma K ⭐⭐⭐⭐⭐